BE THE BEST YOURSELF--USE HEALING CRYSTALS TO SPARK MAJOR CHANGES IN LIFE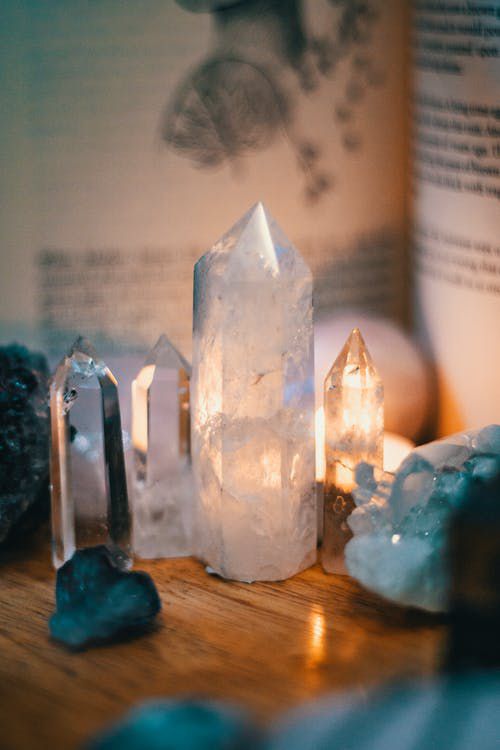 At first, healing crystals seemed to be the latest craze in the healthy world to spread love and good vibrations. But with the fervent pursuit of loyal fans such as Miranda Kerr, Adele, Katie Perry and the Hadid sisters, crystals have become big business, with many claiming that these minerals have mysterious healing powers that can change your mood and even the energy of space.
From Yolanda Hadid's family farm Crystal Garden and Victoria Beckham's preservation of the Sacred Stones backstage at the show, to Kim Kardashian's use of them as a form of healing after her Paris ordeal, there's no denying their powerful appeal. 
If you're looking to bring health and happiness into your home, placing certain crystals around the house can help clear negative energy and provide a calming feeling of grounding and peace. You may feel the crystal pulsating in your hand, see flashing images in your mind's eye similar to the way a clairvoyant does, or suddenly gain clarity about a troubling issue in your life. Whether you wear, carry, or undergo a complete crystal healing, changes have been reported that include a lessening of both acute and chronic illnesses, mental anxiety, and other emotional traumas.
Crystals are not these magical stones that are going to change your life. Crystals are tools to help you go to those deeper layers within yourself, but you still have to do the work." —Heather Askinosie, Energy Muse co-founder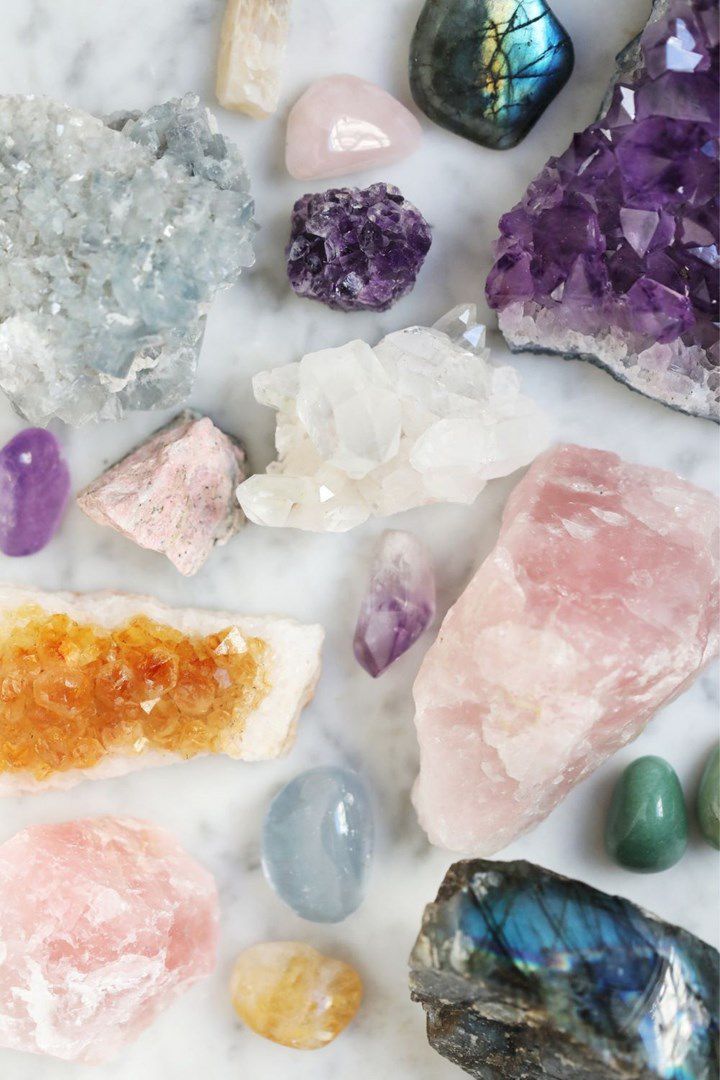 What Are the Benefits of Crystal Healing? 
When you apply crystals to various areas of the body, they contribute to a gentle, non-invasive healing process. They also aid in restoring your body's stability and balance, along with working to encourage your body's natural healing mechanisms. If you're having problems sleeping, for example, crystals can help to depend on the reasons behind your sleeplessness. If nightmares are keeping you awake, you can place a crystal at the foot of your bed to encourage a peaceful sleep or to chase away negative thoughts. Another option is to place the chosen crystal under your pillow at night, the premise being that during sleep the body and mind are more restful, and able to accept the influence of the crystal's healing energy more readily. Use Crystals to attract Love and abundance.
Another way that crystals can promote healing is as an aide aid in attracting love to your life and keeping your current relationship healthy. If you're looking to bring health and happiness into your home, placing certain crystals around the house can help clear negative energy and provide a calming feeling of grounding and peace. Citrine is a popular crystal to use because it attracts wealth. It's also popular because it doesn't absorb negative energy, so it never needs cleansing. If you want to promote love in your home, you can either place rose quartz in the southwest corner of your house or place a bowl of rose quartz in your bedroom. Not only are crystals good for promoting happiness around your home, you can also use them around your workplace to clear your mind and decrease confusion.
WAYS TO USE CRYSTALS FOR ENERGY HEALING
 
SO HOW DO CRYSTALS ACTUALLY HELP AND HEAL INDIVIDUALS? THE GEMSTONES THEMSELVES HAVE THE ABILITY TO ACTUALLY CONDUCT ENERGY. PLUS, EACH PARTICULAR STONE HAS ITS OWN UNIQUE ENERGY WHICH CONTRIBUTES TO THE HEALING PROCESS. IF YOU NEED MORE CONVINCING, THINK FOR A MOMENT ABOUT THE CONTRIBUTION CRYSTALS MAKE IN EVERY FLAT-SCREEN TV, QUARTZ CLOCK, CELL PHONE OR COMPUTER. TRANSFER THAT IDEA TO A MORE PERSONAL LEVEL WHERE CRYSTALS ARE APPLIED DIRECTLY ON THE SKIN OF AN INDIVIDUAL. NOW YOU WILL CLEARLY SEE THE IMPACT CRYSTALS CAN HAVE ON ENERGY. CRYSTALS CAN CALM NERVES, IMPROVE CONFIDENCE, AND OPEN UP CLEAR LINES OF COMMUNICATION. WHETHER YOU WANT TO HELP YOUR PERSONAL LIFE OR YOUR PROFESSIONAL LIFE, THE RIGHT CRYSTALS CAN PROMOTE THE POSITIVE FEELINGS YOU REQUIRE.
EACH CRYSTAL CARRIES SPECIFIC ENERGETIC HEALING WHICH CORRESPONDS TO AN INDIVIDUAL'S AURA. MANY ARE FAMILIAR WITH AMULETS, AND WHEN A STONE IS CHOSEN AS SUCH, ITS MAIN FUNCTION IS TO PROTECT THE BODY, AND REPEL NEGATIVITY. DEPENDING ON YOUR NEEDS, STONES ELECTED FOR A HEALING SHOULD BE CAREFULLY SELECTED TO HEAL, REPEL NEGATIVE ENERGY (INCLUDING DIS-EASE), OR AMPLIFY POSITIVE ENERGY.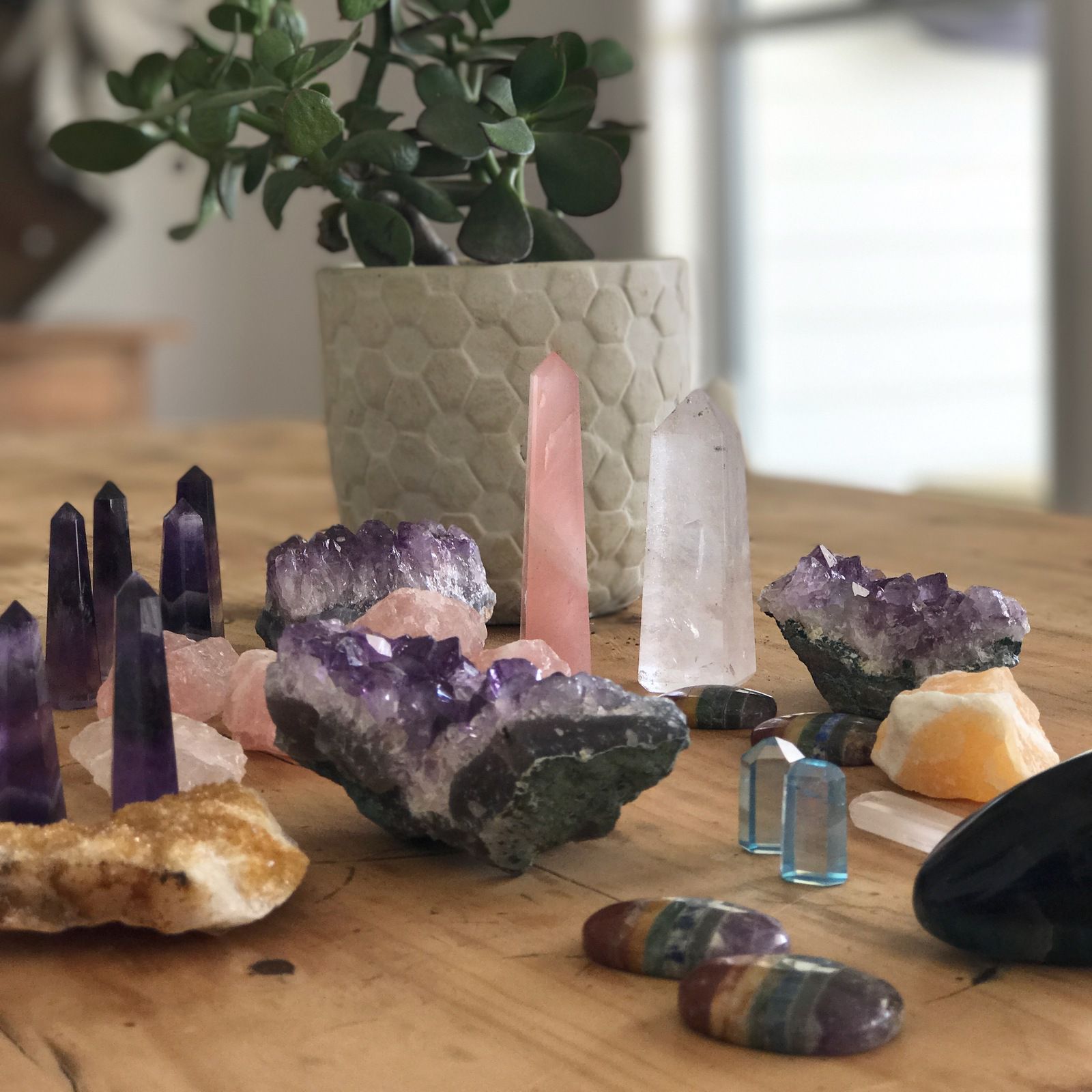 HOW TO SET YOUR INTENTIONS
If you want to try to use crystals, you need to set up a "crystal exercise". This includes cleaning the crystal, setting your intentions, and then charging the stone. To do this, think about the goals you want to set and ask the stone to share its energy and qualities with you. You should also be aware of the surrounding energy – if you seek it, positivity will come to you. Miranda Kerr is known to set her own goals every day to maintain her goals, while others set them once a week or month. Other ways to keep the stone energy present are to carry them with you, and if they are small, keep them in your pocket, on a table, under a pillow, or hold them during meditation. If you feel that your stones are heavy, or have been setting regular intentions, be sure to clean them so that they are not blocked and can continue to radiate positive energy into your life.
HOW TO CLEAN & CHARGE YOUR CRYSTALS
FIRST METHOD
THIS METHOD OF CLEANSING IS A WATER METHOD. YOU CAN SUBSTITUTE WARM WATER WITH WARM SEAWATER OR TAP WATER.
First, prepare a small bowl of warm water and mild soap. You can also soak them in salt water.
Second, gently scrub your favorite crystals with soapy water using only your fingertips, not nails.
Third, rinse them in a separate bowl filled with fresh, cool water to remove any remaining particles from the soap.
Fourth, pat it dry gently with a clean towel to absorb excess water and set out in the sun again for an hour or two to make sure they're completely dried.
Lastly, once dry, your crystals are ready for use.
The easiest way to dry them is to place them near a bright light, but do not let them bask in direct sunlight. Just be careful not to leave them out too long because all that moisture can lead to mold growth if left too long
Any leftover moisture can affect how well the wash works. It will also shorten the life of the crystal.
SECOND METHOD
CLEANING WITH AIR AND LIGHT
 
Another crystal cleansing method is blasting them with light from a bright source, such as an overhead lamp or sunlight through a window. This method can be done in several hours, but it's not recommended for soft stones like Selenite because they may get scratched. 
The best time to do this is during daylight, since artificial lighting doesn't provide enough ultraviolet rays to evaporate the moisture in your stone.
First, soak your crystals in mild soap and warm water for about fifteen minutes, making sure all areas are exposed, so they absorb the water thoroughly. You can also substitute sea salt.
Next, rinse under cool, running water until the water is clear.
Lastly, place your crystal on a towel and blast it with ultraviolet light until it's completely dry.
Note: If you live in an area that doesn't get a lot of sunlight, try drying your crystals under a desk lamp instead.  That will work just as well to remove any leftover impurities, mineral deposits, or moisture from soaking.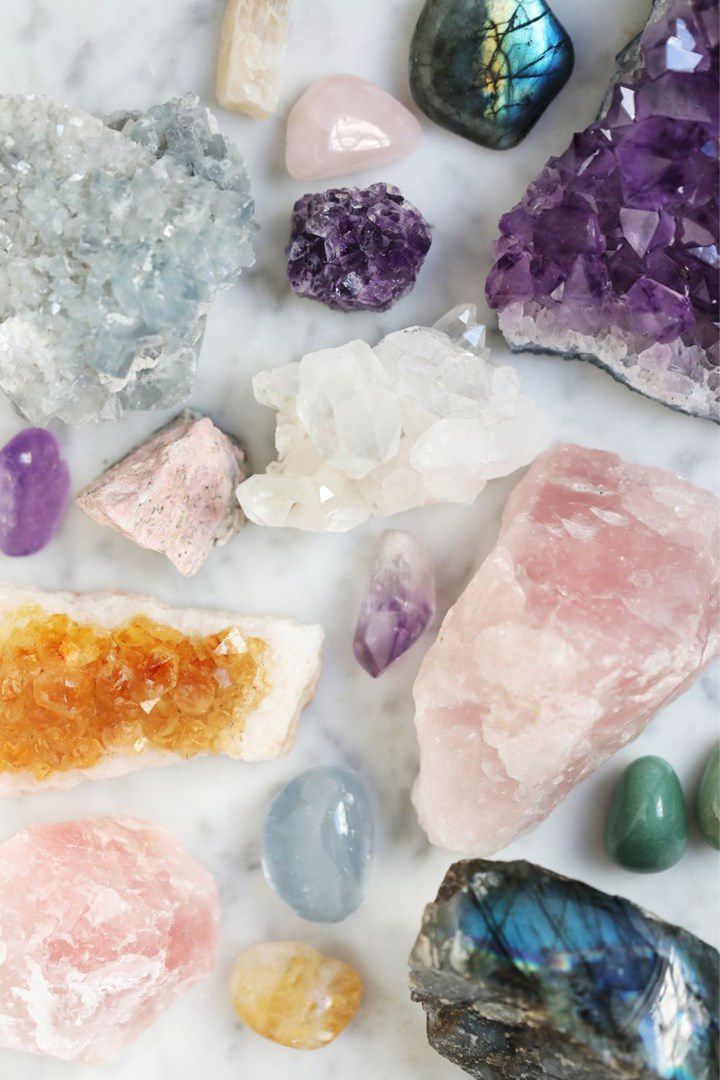 Using your crystals for positive purposes such as healing, manifestation, and protection brings about many benefits. The more they are exposed to positive energies, the stronger their power becomes. The new moon brings an energetic level of growth. This is a great way and time to clear away bad vibes. You should not manifest during a lunar eclipse as it could bring the wrong energy into your life. Brown rice can be used to draw out any negativity and is beneficial for protective stones. Sage sticks help promote healing and wisdom. This is a good idea and one of the popular choices for spiritual energy.
Getting a Crystal Healing In this way, you will get the most benefit from having precious stones chosen by an experienced empathy. Plus, you will gain the advantage of having the healer's energies mingled with that of the energy in the crystals to form a precious, almost laser thrust of energy. Once you have experienced the energies this way, you can try cleansing, programming and directing the crystal energies yourself. As you grow in crystal lore, you will be able to intuitively select the correct crystal for your needs. This works especially well with jewelry and meditation practices. Of course, having a complete crystal healing with stones laid on your body requires another person being involved. One note: when selecting a healer of any type, it is best to let your intuition guide you, that feeling in your lower stomach, aka, solar plexis. If you are drawn toward the person, feel an affinity, go ahead. If not, simply walk away. We live in a new age where eastern and western medicine combine, rather than conflict, coming together to illuminate and enhance the human condition. Whether you wear, carry, or undergo a complete crystal healing, changes have been reported that include a lessening of both acute and chronic illnesses, mental anxiety, and other emotional traumas.